THE CLIFFS & CASTLES TOUR - NOVEMBER 5-14 2022! 
After TWO LONG YEARS, The Scythian in Ireland Trip IS FINALLY HAPPENING!!
Man that feels good to say!
What started out as a celebration of 10 years as a band has been transformed into a traveling circus of Whiskey Faeries, crazy Scythians and two bus-fulls of rowdy friends who've waited a lifetime to experience the magic of the Emerald Isle! We've chosen to make stays in Dublin, Donegal, Killarney, Galway, along with myriads of adventures in between, for this special Cliffs & Castles Irish Tour and hope that you'll be able to join us on this unforgettable trip. You can ask any of the 700+ trip alumni and they'll tell you that something magic happens on these trips where you will leave with new life-long friends and a renewed spirit!  See below for out detailed itinerary of this incredible trip we've planned, and remember, JUST CLOSE YOUR EYES AND SWIPE!
November 2022 GRAND IRISH TOUR ITINERARY
Day 1: Saturday, November 5 - USA to Ireland.
Depart USA for overnight flight to Ireland.  Dinner is served while in flight.
Day 2: Sunday, November 6 - Welcome to Dublin!
Morning arrival at Dublin Airport where you are greeted by your Driver/Guide.  Leaving the airport we travel to a nearby venue where everyone will have an opportunity for their first Full Irish Breakfast (at own expense).  We travel into Dublin Town where we enjoy a panoramic tour of this 1000-year old city.  We then see statue filled O'Connell Street, The General Post Office scene of the 1916 Easter Uprising, as well as Georgian Square. Then onto one of the most popular visit in town is this multimedia homage to Guinness in a converted grain storehouse that is part of the 26-hectare brewery. Across its seven floors you'll discover everything about Guinness before getting to taste it in the top-floor Gravity Bar, with its panoramic views. We will then be dropped off on Nassau Street for some free browsing time. Check into our hotel LATE AFTERNOON. Dinner is on your own, suggestions will be provided. Overnight at the Camden Court Hotel.
Day 3: Monday, November 7 - Dublin- Lough Eske Castle
Today after breakfast, we make our way to Lough Eske Castle. Powerful 14 th century clans of Donegal, the O'Donnell's had their seat here, wealthy landowners ruled from here and Edwardian glamour was played out. In 1861 the new Lough Eske Castle, as we know it today, was built on the site of the old Brooke Mansion. Always a place for entertaining international guests since 1861, Lough Eske Castle remains full of warn Donegal hospitality today as it did over 150 years ago. Dinner and Overnight at Lough Eske Castle.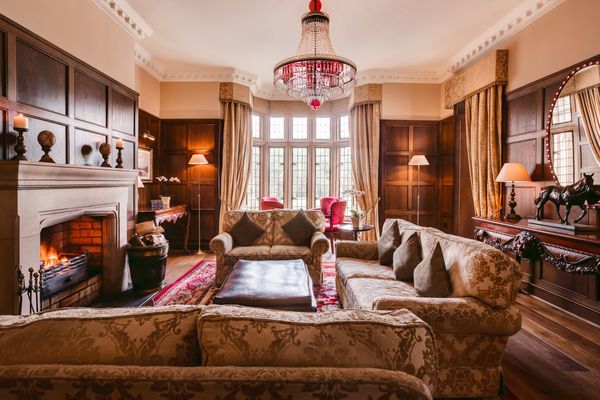 Day 4: Tuesday, November 8 - Donegal 
This morning after breakfast we travel to Glenveagh National Park, with a stop at Glenveagh Castle. This castle was modelled on 
Scotland's Balmoral Castle. Henry McIlhenny made it a characterful home with liberal reminders of his passion for deerstalking. In fact, 
few rooms lack a representation – or the taxidermized remains – of a stag. The most eye-catching of the flamboyantly decorated rooms are 
in the round tower, including the tartan-and-antler-encrusted music room and the pink candy-striped room demanded by Greta Garbo 
whenever she stayed here. The exotic gardens are similarly spectacular, boasting terraces, an Italian garden, a walled kitchen garden and 
the Belgian Walk, built by Belgian soldiers who stayed here during WWI. Their cultured charm is in marked contrast to the wildly 
beautiful landscape that enfolds the area. Dinner & Overnight at Lough Eske Castle Hotel.